As Lakeland's premier floor care and carpet cleaning, we have visited and cleaned so many homes that have personal work spaces. The popularity and need for work-from-home space have increased rapidly during the last two years because of the pandemic that forced us to work in isolation.
As experts who continue to grow in the home maintenance industry, we have gathered so much insight from our experience and observation on what makes a fantastic work-from-home space.
Allocate and design your work space
Have a dedicated space that can fit your desk, your computer systems (if any) in a location inside the house that is neither too warm or too cold. Illumination is also important, so keep your source of light in mind when designing your work-from-home space. Make sure that the door is far from hitting anything should anyone suddenly decide to barge in (your kids can be unpredictable!).
Make sure you have the right desk and chair. large enough to accommodate your physical/spatial needs for work. Can your two screens fit? Do you need to have extra space for writing on your notebook while watching something on your desktop computer or laptop? Does it have a cup holder for your coffee or tea? Do you have back problems? Do you want to have a stationary chair or something you can roll around in? Take everything you will do or use into account when getting your own work desk and chair.
Allocate space for your supplies and tools. Make sure you have accessible storage in your work-from-home space. Your things, such as books, files, office supplies, tripod, should be stored safely close to your main work area.
It is also important to allot space near your work area where you can stand and stretch from time to time, so you don't get your body stuck in a harmful posture and you can reinvigorate your blood circulation after being almost-stationary for hours.
Create a professional background
Because so many meetings happen online through Zoom or Google Meet, it's important for you to make sure that your background looks presentable. Yes, there are various backgrounds available on the app itself, but it's always a good idea to have an actual presentable background that you won't be embarrassed about.
Depending on your nature of work or industry, your background options can include framed artworks or your bookshelf. It can also be a beautiful tapestry or just a plain wall. Avoid having your more personal and non-work/academic-related items such as family pictures, clothes, toiletries, religious items, and exercise equipment to be part of your background.
Have clean floors or carpet
Your work-from-home space isn't complete with a clean and professional looking floor/carpet. It may not be seen on your online meetings but a clean floor or carpeted area adds to the polished feel of your work-from-home space.
Make sure that your floor and carpet cleaning is done by Florida's best floor and carpet care team (that's us!) to ensure safety and beautiful maintenance of your floors and carpet.
And because we understand that one of the perks of having your work-from-home space is getting regular visits from your precious kids and fur babies, our carpet and floor cleaning supplies are certified to be family and pet-friendly solutions!
Call us today and get a quote from us!
https://frogsfloorcare.com/wp-content/uploads/2022/04/work-station-polk-county.png
628
1200
Frogs Floor Care
https://frogsfloorcare.com/wp-content/uploads/2022/03/frogs-floor-care.png
Frogs Floor Care
2022-04-27 09:00:31
2022-04-06 07:43:29
Create the perfect work-from-home space
As Florida's top carpet cleaning and most-trusted floor care company, we are very familiar with the types of carpets Florida that our clients install for their homes and offices. From the living room to the stairs to the converted work-from-home office, homeowners use the carpets to maintain warmth, provide padding, and enhance the aesthetic appeal.
These types can be classified according to their kind of fiber and styles.
These choices give you the opportunity to choose the best carpet for your needs. But if one's unfamiliar, the vast array of options might also confuse a first-time buyer.
Read on to know the different types of carpets Florida homeowners usually install and which are available in the Florida market today.
Types of Carpet According to Fiber
Nylon carpets are crush resistant, meaning that they get worn out easily. Besides, the nylon material is quite versatile, thus, you can get different stylish nylon carpets.
What's good is that they are easy to maintain since they ward off the crumbs and dirt. The fact that they have a smooth surface means that they can trap dirt for an extended period, and you can easily wipe them off any time.
Another downside of these carpets is that they can be prone to shedding, and they can produce a volatile chemical smell.
Woolen carpets can withstand pressure for an extended period, and they provide an excellent aesthetic appearance.
Due to their beautiful look, the woolen carpets are usually associated with luxury. Besides the appearance, woolen rugs are biodegradable and mostly hypoallergenic.
The woolen carpet is the best choice if you are looking for warmth and a luxurious look or feel. You should, however, choose the best type of wool, since they come in many forms. The main woolen carpets include 100% natural wool, and the semi wool carpet.
An acrylic carpet is made of many materials such as wool, nylon and some acrylic materials. Acrylic carpets resemble the woolen type, only that most acrylic carpets are made in factories, while the woolen ones are usually handmade. Also, the acrylic carpets are more flat when compared to woolen carpets.
Though more pricey than the nylon rugs, their price is relatively lower than that of the woolen rugs. The acrylic carpets are ideal for discerning buyers on a budget.
Acrylic carpets are also resistant to chlorine, meaning that they cannot fade quickly even when you expose them to direct sunlight.
The only drawback for these rugs is that they can lose fiber with time. To prevent this, you should clean them gently or get professional carpet cleaning from Team Frogs. You should also buy the best quality acrylic material.
Polypropylene is non-organic synthetic fiber. The materials consist of durable materials, which include nylon, polyester, and acrylic. They also consist of petroleum by-products, and that's why they are only made in factories.
Polypropylene carpets usually have low density and weight. The best kind of polypropylene carpet should also be water-resistant, easy to clean, and have low static electricity features.
Despite their pros, however, some polypropylene carpets might have poor resilience and high sensitivity to heat. You can avoid these drawbacks by using it on a surface that is away from direct sunlight or too much heat.
Types of Carpet According to Style
Carpet flooring comes in many weaving styles, too.
Saxony is an ideal style for people looking for a formal house look. It looks elegant and takes after traditional carpets and rugs.
The upper surface is quite soft, smooth, and velvety giving it its lucrative appearance. However, they are not ideal for corridors or areas with heavy foot traffic as this will easily wear out.
The cut and loop carpets consist of short looped yarns. These yarns are well arranged in beautiful patterns that enhance the surface. The different patterns make the carpets attractive, and that is why many homeowners prefer them to most types of carpet Florida has available.
You can use it in any open area, or in your children's bedroom. You can also choose the ideal patterns which you would like to be incorporated into the carpet.
Berber carpets feature short, looped sand compact fibers. Note that unlike the cut-and-loop, Berber carpets' loops are not soft.
The fibers have the same height, and this produces an ideal casual style for the carpet. They are durable, and you can use them in busy traffic areas such as in the stairs or corridors.
As the name implies, the textured carpets have visible textures. These have alternating twists on the surface which makes a more intricate overall appearance.
The textured appearance is ideal for hiding the footprints and other visible vacuum marks. They are easy to maintain, and you can use them in any part of the house.
Carpets of frieze style are another great option for busy areas in the house. The loops are highly twisted, and they curl well at the end. The curly loops create a knobby look that fits well in any room of the house.
Shop for the RIGHT Carpet
As you can see, there are many types of carpet Florida has in the market. Each carpet has amazing features, and you should carefully compare and adequately plan to make a well-thought decision for your home/office.
Before you buy, understand your needs and your areas' foot traffic, compare prices, and understand the pros and cons of each option. By doing so, you will be able to pick the best stylish and durable carpet for your home.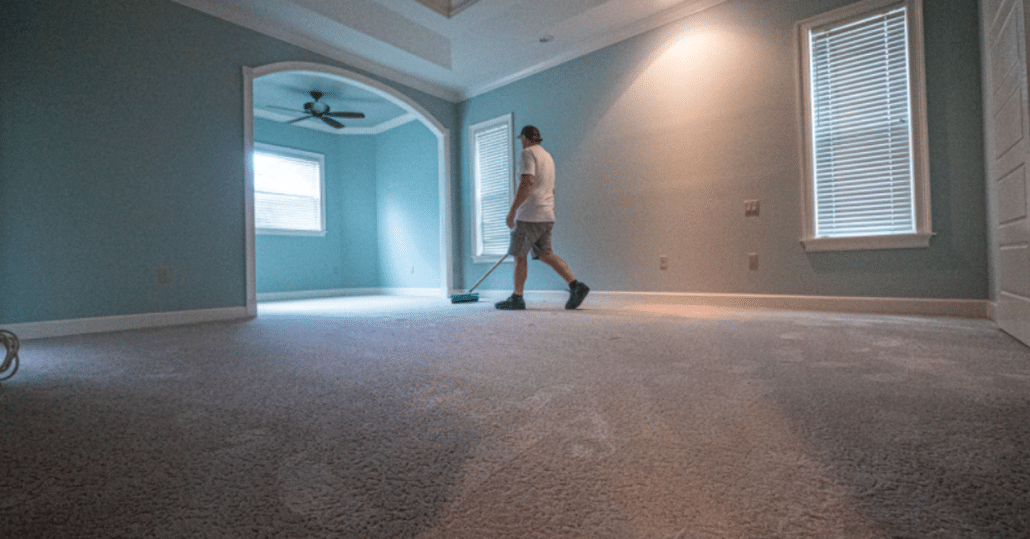 Trust Frogs and let your carpet see long amazing years!
There's no denying that Frogs is Florida's premier floor care company. We are the trusted carpet cleaning company for thousands of households around the state. As a new carpet owner, you can trust us to deliver safe carpet cleaning regularly to ensure that your new valuable installation maintains its durable quality and polished look. Professional cleaning actually helps you save money and maintain safety in the long run.
Read here to learn more about the top reasons why you should invest in professional cleaning.
Call us TODAY and get a quote! We would love to be part of your home maintenance routine.
https://frogsfloorcare.com/wp-content/uploads/2022/04/dog-on-carpeted-floor-polk-county.png
628
1200
Frogs Floor Care
https://frogsfloorcare.com/wp-content/uploads/2022/03/frogs-floor-care.png
Frogs Floor Care
2022-04-13 08:00:19
2022-04-06 07:49:18
Different Types of Carpets in Florida Homes
As Florida's premier floor and upholstery care company, having cleaned carpets for thousands of clients in the Tampa Bay area, we have seen countless homes, some with the perfect carpet, some could have had better carpets installed. While we never impose our opinion or bring up unsolicited advice to our clients when we visit them, we would love to share what you can do to choose the best carpet for your home.
Buying carpet is an important decision and purchase. We want to make your carpet-shopping journey as stress-free as possible.
Before you shop for new carpet, set your expectations. There are a variety of carpets for every household and occasion.
Here are some questions to ask yourself that will help you determine what carpet is best for your home:
How much are you willing to spend?
Remember that your total budget should include the carpet, cushion AND installation.
What type of carpet do you need?
Do you need something that can handle your active family or even your pets?
And where will this be located?
Once you have identified your basic needs, it will be easier to narrow down a carpet in the right style and color to reflect your tastes.
Do you have a style and color in mind?
Whether you're looking for the latest carpet colors and patterns or a timeless classic, it's important to know what look you're going for. This will make it easier to navigate through hundreds of styles and colors.
What about carpet cushion
The right cushion improves the comfort of your carpet and helps stop stains from reappearing for easier cleaning.
When do you need your new carpet?
Do you need it quickly or do you have time to spare?
How should I care for my new carpet?
Whether your carpet needs to stand up to heavy or light foot traffic, proper care will allow its quality, look and feel to last for years to come. Having it professionally cleaned by the best Florida carpet cleaning team (that's us here at Frogs definitely!) as outlined by your warranty will ensure that your carpet looks newer longer and will keep your warranty coverage valid.
What about the warranty?
Sometimes accidents happen. Make sure you understand your carpet's warranty and register your carpet to get the best coverage.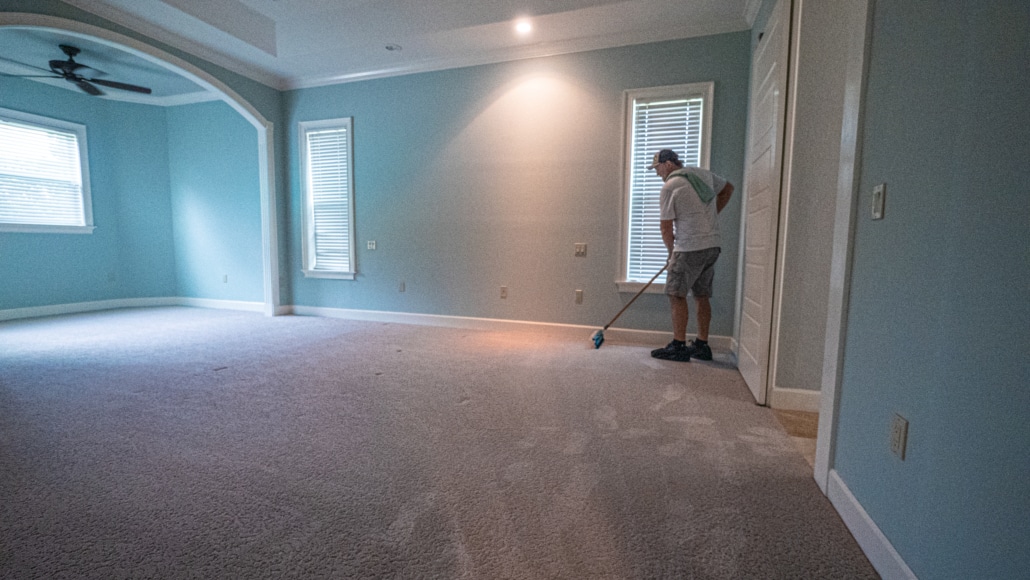 Frog Reminder: Extend the life of your carpet to-be
Professional carpet cleaning experts with extensive experience can give you peace of mind knowing that your carpets have been thoroughly cleaned and sanitized. Regular cleanings will guarantee that your carpet is looking its best all year round.
Let Frogs take care of your carpet!
As you may now realize, carpets are an investment. Let Frogs Floor Care help you protect your investment by applying our modern floor cleaning approaches by using powerful but gentle cleaning products and the right equipment to make sure that your carpets are cleaned well without any damage.
https://frogsfloorcare.com/wp-content/uploads/2022/03/carpet-floor-cleaning.png
628
1200
Frogs Floor Care
https://frogsfloorcare.com/wp-content/uploads/2022/03/frogs-floor-care.png
Frogs Floor Care
2022-03-28 08:00:19
2022-03-18 08:14:36
How to Choose the Right Carpet for Your Florida Home