As Florida's top carpet cleaning and most-trusted floor care company, we are very familiar with the types of carpets Florida that our clients install for their homes and offices. From the living room to the stairs to the converted work-from-home office, homeowners use the carpets to maintain warmth, provide padding, and enhance the aesthetic appeal.
These types can be classified according to their kind of fiber and styles.
These choices give you the opportunity to choose the best carpet for your needs. But if one's unfamiliar, the vast array of options might also confuse a first-time buyer.
Read on to know the different types of carpets Florida homeowners usually install and which are available in the Florida market today.
Types of Carpet According to Fiber
Nylon carpets are crush resistant, meaning that they get worn out easily. Besides, the nylon material is quite versatile, thus, you can get different stylish nylon carpets.
What's good is that they are easy to maintain since they ward off the crumbs and dirt. The fact that they have a smooth surface means that they can trap dirt for an extended period, and you can easily wipe them off any time.
Another downside of these carpets is that they can be prone to shedding, and they can produce a volatile chemical smell.
Woolen carpets can withstand pressure for an extended period, and they provide an excellent aesthetic appearance.
Due to their beautiful look, the woolen carpets are usually associated with luxury. Besides the appearance, woolen rugs are biodegradable and mostly hypoallergenic.
The woolen carpet is the best choice if you are looking for warmth and a luxurious look or feel. You should, however, choose the best type of wool, since they come in many forms. The main woolen carpets include 100% natural wool, and the semi wool carpet.
An acrylic carpet is made of many materials such as wool, nylon and some acrylic materials. Acrylic carpets resemble the woolen type, only that most acrylic carpets are made in factories, while the woolen ones are usually handmade. Also, the acrylic carpets are more flat when compared to woolen carpets.
Though more pricey than the nylon rugs, their price is relatively lower than that of the woolen rugs. The acrylic carpets are ideal for discerning buyers on a budget.
Acrylic carpets are also resistant to chlorine, meaning that they cannot fade quickly even when you expose them to direct sunlight.
The only drawback for these rugs is that they can lose fiber with time. To prevent this, you should clean them gently or get professional carpet cleaning from Team Frogs. You should also buy the best quality acrylic material.
Polypropylene is non-organic synthetic fiber. The materials consist of durable materials, which include nylon, polyester, and acrylic. They also consist of petroleum by-products, and that's why they are only made in factories.
Polypropylene carpets usually have low density and weight. The best kind of polypropylene carpet should also be water-resistant, easy to clean, and have low static electricity features.
Despite their pros, however, some polypropylene carpets might have poor resilience and high sensitivity to heat. You can avoid these drawbacks by using it on a surface that is away from direct sunlight or too much heat.
Types of Carpet According to Style
Carpet flooring comes in many weaving styles, too.
Saxony is an ideal style for people looking for a formal house look. It looks elegant and takes after traditional carpets and rugs.
The upper surface is quite soft, smooth, and velvety giving it its lucrative appearance. However, they are not ideal for corridors or areas with heavy foot traffic as this will easily wear out.
The cut and loop carpets consist of short looped yarns. These yarns are well arranged in beautiful patterns that enhance the surface. The different patterns make the carpets attractive, and that is why many homeowners prefer them to most types of carpet Florida has available.
You can use it in any open area, or in your children's bedroom. You can also choose the ideal patterns which you would like to be incorporated into the carpet.
Berber carpets feature short, looped sand compact fibers. Note that unlike the cut-and-loop, Berber carpets' loops are not soft.
The fibers have the same height, and this produces an ideal casual style for the carpet. They are durable, and you can use them in busy traffic areas such as in the stairs or corridors.
As the name implies, the textured carpets have visible textures. These have alternating twists on the surface which makes a more intricate overall appearance.
The textured appearance is ideal for hiding the footprints and other visible vacuum marks. They are easy to maintain, and you can use them in any part of the house.
Carpets of frieze style are another great option for busy areas in the house. The loops are highly twisted, and they curl well at the end. The curly loops create a knobby look that fits well in any room of the house.
Shop for the RIGHT Carpet
As you can see, there are many types of carpet Florida has in the market. Each carpet has amazing features, and you should carefully compare and adequately plan to make a well-thought decision for your home/office.
Before you buy, understand your needs and your areas' foot traffic, compare prices, and understand the pros and cons of each option. By doing so, you will be able to pick the best stylish and durable carpet for your home.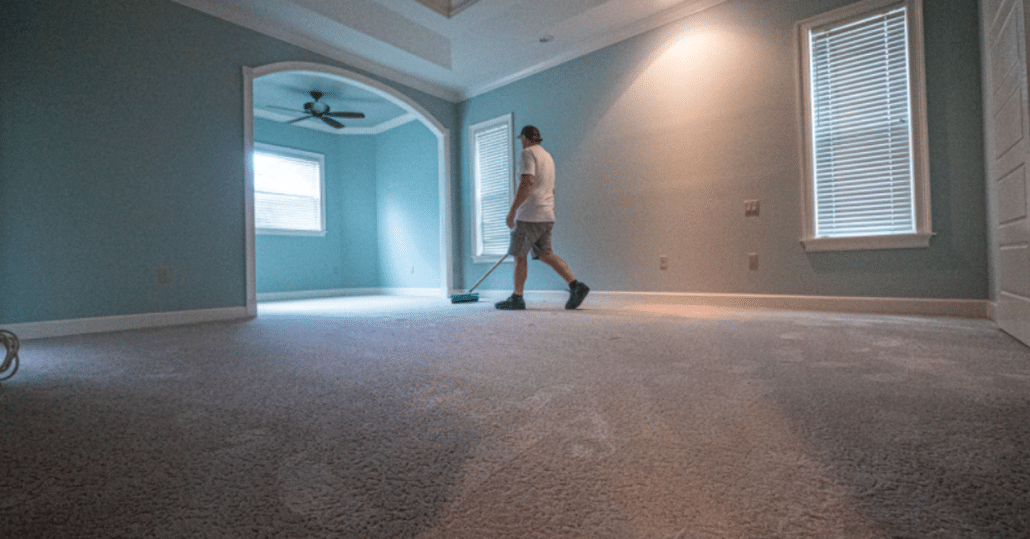 Trust Frogs and let your carpet see long amazing years!
There's no denying that Frogs is Florida's premier floor care company. We are the trusted carpet cleaning company for thousands of households around the state. As a new carpet owner, you can trust us to deliver safe carpet cleaning regularly to ensure that your new valuable installation maintains its durable quality and polished look. Professional cleaning actually helps you save money and maintain safety in the long run.
Read here to learn more about the top reasons why you should invest in professional cleaning.
Call us TODAY and get a quote! We would love to be part of your home maintenance routine.
https://frogsfloorcare.com/wp-content/uploads/2022/04/dog-on-carpeted-floor-polk-county.png
628
1200
Frogs Floor Care
https://frogsfloorcare.com/wp-content/uploads/2022/03/frogs-floor-care.png
Frogs Floor Care
2022-04-13 08:00:19
2022-04-06 07:49:18
Different Types of Carpets in Florida Homes