Whether you're a first-time parent setting up your baby's nursery or otherwise, having a baby in the family can be a rewarding experience.
However, with all the excitement you feel, it's still important to ensure that your little bundle of joy's well-being is put first at all times. This is where it's essential to set up a nursery.
In most cases, setting up a nursery can be a little challenging and overwhelming, especially if you don't know where to begin. Luckily, there are plenty of ways that you can use to make the set-up a success.
Keep reading this blog to learn about 5 tips in setting up your baby's nursery room, straight from the Lakeland carpet cleaning professionals at Frog's Floor Care!
Fill the Space with Essential Baby Furniture
As a parent, it may be hard to take care of the baby when managing the household all at once. Since tending to your bundle of joy can be time-consuming, it can be a great idea to fill in your baby's nursery room with necessary furniture to make it more manageable.
This can include:
Baby Swing – to keep the baby preoccupied while running other tasks in the house.
Changing Station – a vital piece to make changing for your little one as comfortable as possible.
Chair – a necessary piece of furniture for feeding your little one. All you need to do is to add extra cushions and sit upright to make it more comfortable for you.
Keep a Sanitation Station
It's also essential to keep your baby's nursery room as germ-free as possible to protect your little one from the risk of diseases or other health issues.
This is where the sanitation station comes to the rescue. Below are some things to consider:
Provide a tray filled with anti-bacterial gels and paper towels on the changing table to avoid contamination of surfaces.
Wipe the hotspot areas with antibacterial wipes on a regular basis.
Come up with a strategy on how to dispose of soiled clothing and dirty diapers such as having a separate hamper.
Keep Your Floors Clean
Babies spend much of their time on the floor, which means regular cleaning is vital. This is especially true with carpeted floors, which can be home to dust mites and mold. If your nursery is carpeted, vacuum twice a week to eliminate pet dander and other allergens.
We also encourage you to maintain your baby's nursery with Lakeland professional carpet cleaning professionals to ensure excellent air quality in your little one's room. The professional's deep cleaning solutions will ensure that any dirty element will not set and accumulate in the nursery.
Sanitize Floors Regularly
Since babies explore the world with their mouths, it's important to sanitize your bundle of joy's toys once a week.
Wipe each toy with disinfectant, and then rinse with water or a wet cloth.
Use an Eco-Friendly Cleaner
According to the Lakeland tile cleaning experts, not only are eco-friendly cleaners better for the environment, but they're also better for your infant. VOCs, or volatile organic compounds, are found in many cleaning products. Under ordinary environmental conditions, many common chemical compounds evaporate, impacting indoor air quality.
They have the potential to make you and your family ill.
Keep Your Baby's Nursery Clean with the Professionals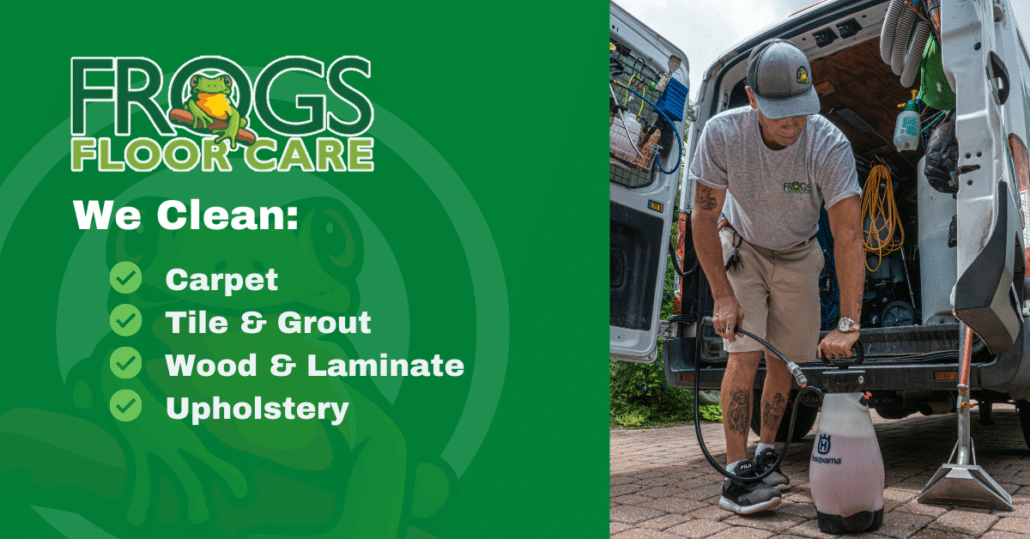 Creating a nursery room for your newborn might be a difficult task. You should carefully arrange the setup with their comfort and overall well-being in mind to attain the greatest potential result.
So, if you want to get a head start, follow the tips above and enlist the help of Lakeland carpet cleaning professionals with Frog's Floor Care! We use pet and children friendly chemicals, to ensure that you'll be able to set up your baby's nursery with delight.
https://frogsfloorcare.com/wp-content/uploads/2022/03/lakeland-Setting-Up-Your-Babys-Nursery.png
628
1200
Frogs Floor Care
https://frogsfloorcare.com/wp-content/uploads/2022/03/frogs-floor-care.png
Frogs Floor Care
2022-01-15 05:51:00
2022-03-09 03:32:55
Expecting? Here are 5 Tips in Setting Up Your Baby's Nursery!