It's the New Year! In the cold light of January 1st, we all resolve to make the year better for us by losing weight, exercising more, giving up vices or making another health-focused change.
Whether you're a firm believer of the practice of creating New Year's resolutions, or if you're more of the "New Year, Same Me" type, there's no denying the benefit of an inner reflection, or an outside assessment of interior home improvements like your floors!
In this blog, the Lakeland local carpet cleaning team will take you through the history of New Year's resolutions, and our top 5 recommended resolutions for your home!
History of New Year's Resolutions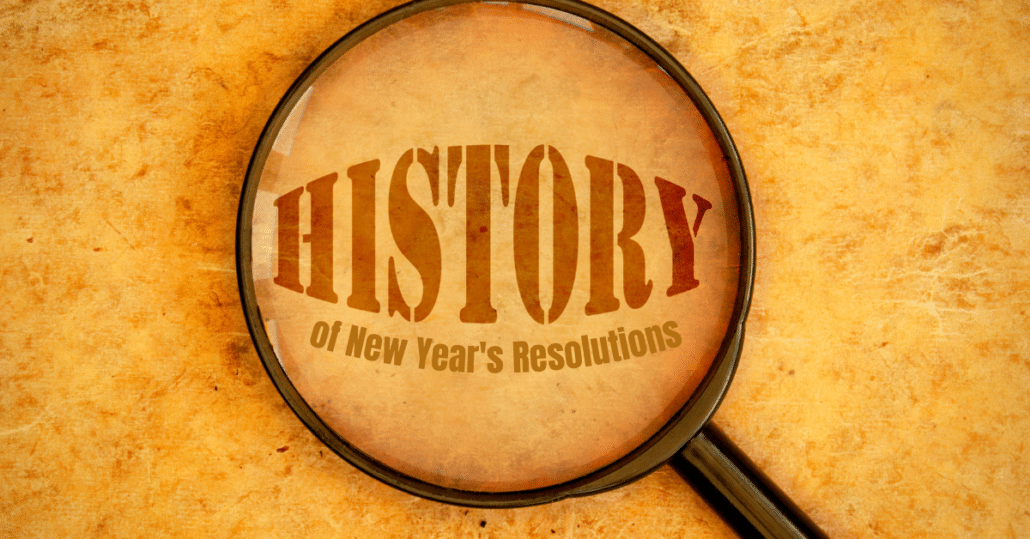 New Year's Resolutions have been around for quite some time, 4,000 years to be exact. But resolutions weren't about losing weight or finding love. Almost every culture has some type of tradition or holiday that relates to a tradition or holiday.
In ancient Egypt, people took part in the celebration called the "Wenpet Renpet" dubbed as the opening of the year where Egyptians enjoyed a lot of food and drinks. Their celebrations likely coincided with the Nile River's annual flood which made farmlands fertile for the years to come.
Most historians believe that the Babylonians were the first to make New Year's Resolutions like what we do today. Like the Egyptians, the Babylonians coincided with the celebrations during the planting of new crops in Mid-March. During the celebrations, Citizens also swore to pay off debts to their Gods, and promised to return goods. Those promises and declarations are thought to be the first New Year's resolutions.
In Ancient Rome, Julius Caesar changed the Roman calendar into the 365-day format that we're familiar with today. It was during his time that Jan 1 was declared as the first day of the year, which was a homage to Janus, God of New Beginnings.
Today, more than 5,000 years after the first known New Year's Celebration, humans still entered the New Year promising better morals and conduct, eating more healthily, exercising more, and working harder to maintain and improve relationships.
Aside from different New Year's resolutions examples that are mentioned above, keeping your home clean should be one of them, as it ties in with self-improvement. Because when your house is clean, it gives you a clearer perspective and most importantly, a healthy home.
Without further ado, let's jump into the top 5 New Year's resolutions for your home!
Scrub Your Tiles Once A Week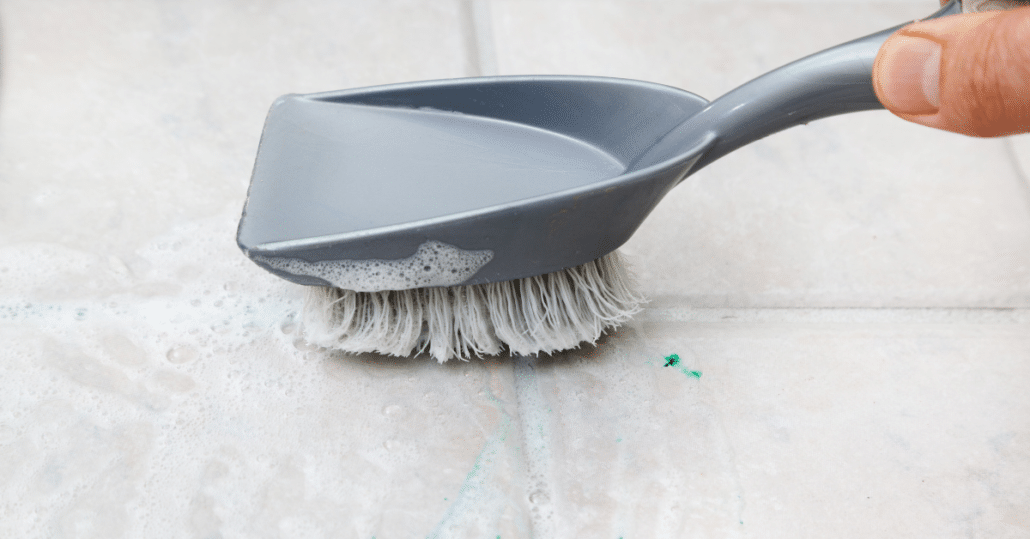 Scrubbing your tiled bathroom or kitchen is not up there with the other chores on your task list, but it's time to make that a priority this 2022.
Trust us when we say that cleaning it regularly makes the job less-time consuming and more hygienic! Steady maintenance helps keep mildew and mold from building up, so regular cleaning is quick, easy, and less daunting. After scrubbing, rinse and give a quick run-down wipe and you're done!
To keep your floors cleaner and shinier, it is recommended you subject your floors to deep-cleaning once a month by Lakeland tile cleaning professionals. With professional cleaning, your tile and grout will be treated to advanced methods such as steam cleaning, that can effectively treat hard-to-reach dirt that can seep into your grout.
Dust Mop Your Floors
Some of you might forget this step in floor cleaning, but it's actually really ESSENTIAL. Normally, you'd mop and move on to other tasks. This year, incorporate dust-mopping to keep your floor clean and free of dust particles that can damage and diminish the shine of your floors.
Dust mopping should be performed daily, or as often as necessary to keep grit off the floor. By dust-mopping, you're able to carry out damp mopping tasks effectively! Just remember to dust mop BEFORE damp mopping.
Pay Attention to Your Furniture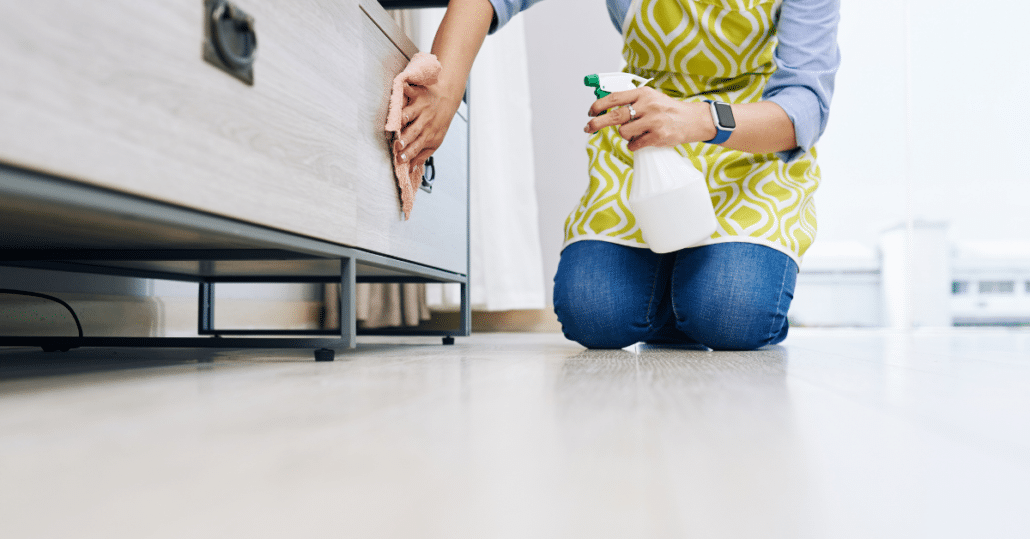 Loose dirt and greasy residue? Yes, that pretty much hangs arounds on your furniture when you don't pay enough attention to clean it. This year, allocate one day every two weeks for your furniture.
To make the cleaning easier, put down a layer of wax paper or paper bags on top of cabinets and furniture. It'll catch the loose dirt and greasy residue, and you'll just have to change out the paper once it's cleaning time.
Make Use of Carpet Cleaning Solutions
Always hosting parties at home? Stains and spills are not strangers to these events!
Make use of carpet cleaners on intense spills that you think may be too hard to clean. Instead of turning to home cleaning products (if not chosen carefully), can discolor or damage your carpets permanently.
Carpet cleaning solutions are meticulously analyzed by Lakeland hardwood floor cleaning professionals to fit in with the carpet fibers. You can treat these solutions as a pre-treatment, especially when you maintain cleaning with floor care professionals (which is also important to do).
Regular Professional Cleanings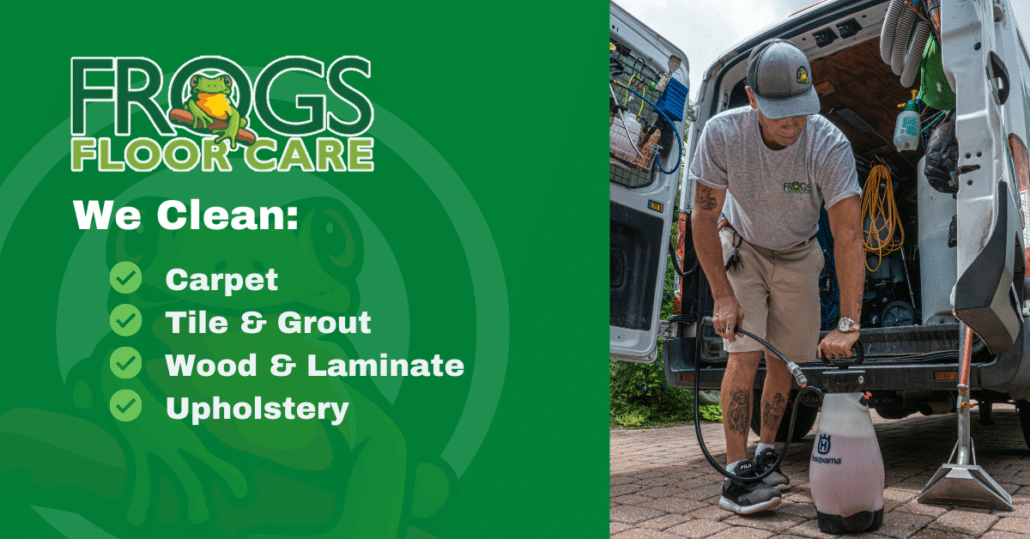 When it comes to any type of floors, may it be hardwood floors, tiled floors, and carpet flooring, regular professional cleanings can eliminate pollutants, remove dust mites, and remove dirt and bacteria that's overlooked by scrubbing, mopping, or sweeping.
At Frog's Floor Care, our affordable Lakeland carpet cleaning team specializes in floor and upholstery cleaning. We're here to help you take care and maintain your home, which is an investment and a place for happy family time!
https://frogsfloorcare.com/wp-content/uploads/2022/01/New-Years-Resolutions-Floor-Care-Edition.png
628
1200
Frogs Floor Care
https://frogsfloorcare.com/wp-content/uploads/2022/03/frogs-floor-care.png
Frogs Floor Care
2022-01-01 05:27:00
2022-03-09 03:44:49
New Year's Resolutions: Floor Care Edition